SOFTBAITING
Soft baits are an improvement on the existing soft plastic technology. Softbait tails look and act just like soft plastic tails but are made out of biodegrable matter that fish like to eat, and are usually impregnated with a scent.
GEAR
RO
There are specialised rods and reel on the market atm, if you want to buy one go for it. However if you already have a 6ft light casting rod, this will do the trick to. The rod just needs to have a lot of whip in it to get the cast right and give a good swim action on the retrieve, the magic words to say to a sale clerk are "light tackle with a fast action".
LINE:
There are basically 2 types of line, mono-filament and braid.
-Mono-filament: Or mono, is fine for beginners as it is cheaper than braid. However it does stretch, and when you're fishing deep or long this does affect your lure action. If you'e determined to use mono buy gel spun line as it has minimal stretch. Mono also twists, so you have to use a swivel. HAVE. TO.
-Braid: I'm currently using braid. Braid does not stretch, this property allows you to feel your lure in the water as you work it, and strikes are droadcasted back up the line clearly. However because of it's lack of stretch at least 6m of mono trace is required to ack as a shock absorber when the big one strikes.
REELS:
Any casting reel is fine, just as long as you can apply a minimum of 1.5kg drag on the spool. A bait caster is good too, but GL using it to it's fullest around rocks.
TACKLE:
-A selection of jig heads ranging from 5-15grams.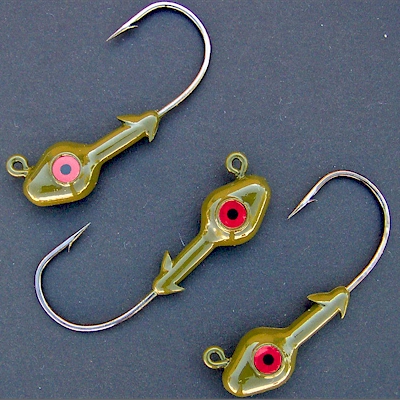 -Sinkers ranging from 5 to 25 grams, if you can find a couple of 15gram sand sinkers (with little metal spikes to grip the sand) then grab them too.
-3/0 and 4/0 snapper hooks (you can't get straight shank worm hooks here but snapper hooks work just as well)
-Texas worm hooks.
-Bait-holder hooks
Note the barbs on the shank for holding a softie.
-Swivels
BAIT:
Berkley Gulp! baits are currently the king of soft baits. I don't want to sound like an Ad Bot, but these live up to their slogan of out fishing all other baits. You will need:
-Jerk shads in 2 colours.
-Blood or Sand worms in 2 colours (you may have to look in the freshwater baits for these)
-Crabs in two colours.
-Mullet in two colours.
-Prawn, natural colour.
-Anything with a grub or paddle tail.
When I say two colours I mean grab one type in the natural "fish" colouring and one in the brightest fluoro yellowy red.
The actual fishing part
If you are using light tackle you must be confident with you knots. I pretty much use either an improved cinch knot, polamo knot or blood knot for everything. I can tie them quickly and the set tightly because I practise. There is NOTHING worse than fighting a fish for 20 minutes, and then as soon as you get some slack on your line the knots comes undone because you tied it in a hurry. I've lost more good fish that way.
RIGS:
-The drop shot is a favourite for fishing slow moving shallows and mangroves. However bottom feeding fish generally will not go for it. I prefer nose hooking my soft baits and a 3/0 hook as this way the fish generally get hook in the top of their mouth with hook shank poking out which reduces the chances of "rub break". The rigs work great on big fish like john dory, kahawai and snapper if you're using a 3/0 snapper hook with a grub tail, and even better on sprats when using a size 6 bait-holder hook with half a sandworm.
-Using a jig head with a soft plastic as a tail is not an new idea. However softbaits are relatively new, and fishing them with a jig head is how most new converts do it, and it is still the most versatile method.
-The coralina rig. This rig is great for catching smaller fish, and achieve the best result when used with a sandworm type soft bait. Use a size 2 bait holder hook one a trace with swivel. Weight this with a small ball sinker above the swivel. Now most brands sand worm softies are too long imo, so cut one in half and nose hook it on your baitholder. I used this rig to cast into whitewash from a beach, which usally results in a small kahawai. I'm told this rig is perfect for flounder too.
Texas rig. Deadly, if you fish it right. Ball sinker above a texas worm hook. Because the hook is betached from the weight, it is free to wiggle around around the sinker rises and falls giving the softbait an eerily lifelike action with minimal rod-work.
Pro-tip: To stop it rolling or spinning round and round in the water, attach a small split ring to your hook and tie you line to the split ring.
HARD BODIED LURES
There are a lot of hard bodied lures on the market. They are an ancient technology, so we have had a lot of time to play around with their design. So im going to define them somewhat broadly. ANd i'm going to use the american naming conventions for these, as if there is one thing the yanks know well it's lure fishing. With these lures a faster retrieve than you would use with a softie are required.
CRANK LURES:
Basically a rapalla lure. These lures are fished shaped tubes with a bill which causes the lure to dive when it is retrieved, or trawled.
Trolling is very basic, trie them on and drive slow. Retrieving from a stationary boat is pretty safe and effective, just be careful as the treble hooks will get snagged on anything.
Using them from shore takes skill, and knowing exactly what the lure you brought is designed for. Check the lure packagin to see if it has active buoyancy, netural buoyancy, or negative buoyancy. Active buoyancy means they float, and you can guess the rest. For this reason only an active buoyancy lure is viable when fishing around NZ rocks. Cast out well past the rocks, swim it in then stop, then move it around the rocks in a series of sharp dives dont be afraid of hitting the rock, but as soon as you feel it let the line slack, or you've lost a $20 lure.
Poppers
If you are serious about fishing, and consider yourself a bit of a pro, if you don't have one of these you are doing it wrong. Surf casters can use this lure. Boaties can use this lure. Rock hoppers can use this lure. The best part is
you
can make a decent one, no sweat. It needs to float, have a concave dish at the front, and a hook near it's tails. I make mine out of old broom handles. Paint it red and black and you have a winrar! Or you could pay $20-$30 for one. Just cut it in half, put some wire trice in for hooks and a tie off and glue or lash it back together.
It's quite simple to use, cast it out and wind it back in keeping your rod tip high. If you're going surfcasting. Take two rods, bain one and tie a popper to the other. If nothing else it'll keep you busy while you catch nothing, but if the fish are on it is the business for the pelagic predators, kahawai, kingies and mackeral (on small ones that is).
Technique will be back soon, as the stuff that was here was poo
And thats it. Go out and conquer.
EDIT
24/10/09: Added stuff, formatted stuff, took stuff away.
12/12/09: Added Hard bodied stuffs. technique will be back soon.