In the style of my previous thread "Epic BBQ Leg of Lamb" I thought I'd share with you my recipe and technique for ribs.
Here's the ribs: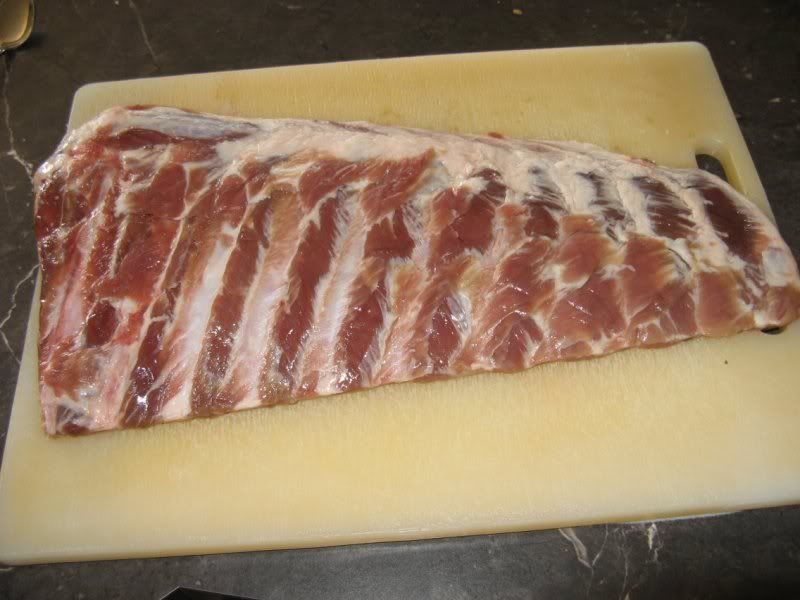 Start by removing the membrane on the back of the ribs. Slide a knife under it to start it and then use a paper towel to assist with grip and remove it. This is done to make sure you don't get a stringy skin bit that's tough to chew through and allows the flavours to penetrate better.
Next prepare the dry rub. Ingredients:
3 tsp smoked paprika
1 tsp sea salt
1 tsp cracked black pepper
1 tsp cumin
1/2 tsp chili powder
1 tsp garlic powder
2 tsp dried oregano
1/2 tsp celery seeds
1 tsp dry mustard
2 tsp coriander seeds
1 tsp mustard seeds
1/4 cup brown sugar
2 tsp muscavado sugar
Combine in a pestle and mortar starting with the seeds ingredients first. Feel free to adjust the spices as you see fit and leave things out if you don't have them or expirement with your favs, the aim is to have a sweet/smokey/heat/earthy balance you like.
Coat both sides of the ribs liberally with the rub.
Leave to rest at room temp while you go set up your fire, or you can leve for a few hours in the fridge.
Get some wood chips, I used manuka (cheap dif sized bags at Warehouse), and soak them in water.
I used my Weber kettle to do them but you can do them in a gas bbq with a hood or even your oven at a stretch (maybe with no smoke though). Set up the kettle for indirect grilling, coals on both sides ribs in the middle. Use a drip pan underneath with a cup of apple juice and a cup of water, this provides moisture and controls temp. Chuck a handful of your soaked woodchips on each pile of coals. Put the lid on with the vents in the center, you want the smoke and heat drawn up into the middle over the ribs. Close the vents halfway and you want a temp of 150c, or go lower if you have more time (better).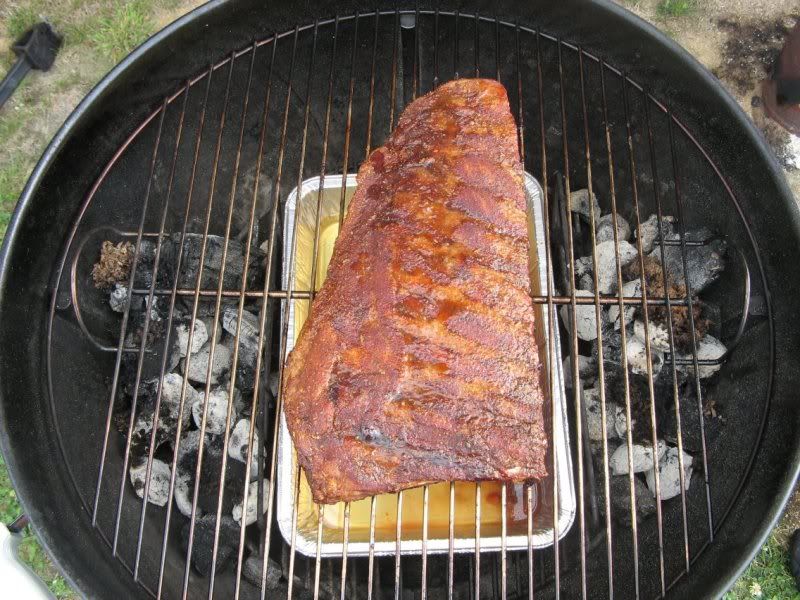 Now for those of you that don't have a kettle, do them in a hooded BBQ. Take out your grill grates and leave one only for the ribs in the middle. Turn on the outside burners only. Put 1/2 your woodchips in a smoke box or even just in a tinfoil pouch with a couple of holes poked in it and put them directly over a burner. Put the drip tray with apple and water underneath. Close lid and get the temp right. Change the smoke pouch to a new one after an hour or so. Your setup should be similar to this like I did for the lamb:
Now leave it for a good 45 mins to an hour. Go inside and make the mop sauce and the BBQ sauce.
Mop sauce ingredients:
2 TBS unsalted butter
1/3 Cup of apple juice
splash of bourbon
Melt the butter and add the apple and bourbon. Heat for a few mins. Use this sauce to baste the ribs every time you lift the lid. Only 2-3 times over the course of the 2.5 hours or so of cook time (longer if lower temp).
BBQ Sauce - Feel free to leave out, adjust, alter anything as it's quite a complex lot of ingredients, just expirement!
1/2 red onion finely diced
3 cloves of garlic sliced
1/2 tsp mustard seeds
2 tsp cumin
2 tsp smoked paprika
1/2 tsp black peper
1/2 tsp sea salt
1/2 tsp chili powder
2 TBS red wine vinegar
1 TBS worcestire sauce
1 TBS dijon mustard
3 TBS hoisin sauce
2 TBS molasses
1/3 cup tomato sauce
1/2 cup apple juice or water
50ml Bourbon (burn of the alcohol first is best)
sprig of fresh oregano
few drops of liquid smoke
Cook the onion and garlic over a medium heat until soft, don't brown them. Add mustard seeds. Add dry spices and cook for a min or 2. add vinegar to deglaze, add in sauces and whole oregano sprig and rest of ingredients except apple juice. Cook gently for 30-40 mins adding apple juice or water to thin the mix as you don't want it to reduce to tar. Once done strain through a fine sieve and discard all the solid bits. Congrats you have yummy homemade bbq suace! This stuff will keep in the fridge for ages and is great on all sorts of things.
The ribs will be done after approx 2.5 hours during which time a couple of checks to baste and add more woodchips should be done. You will see the meat shrink away from the bone a bit when done. Resist the urge to peek constantly.
Once done take the bbq suace and paint a generous layer on bothe sides. Then put the ribs directly over the coals for a couple of minutes to caramalise them. Done!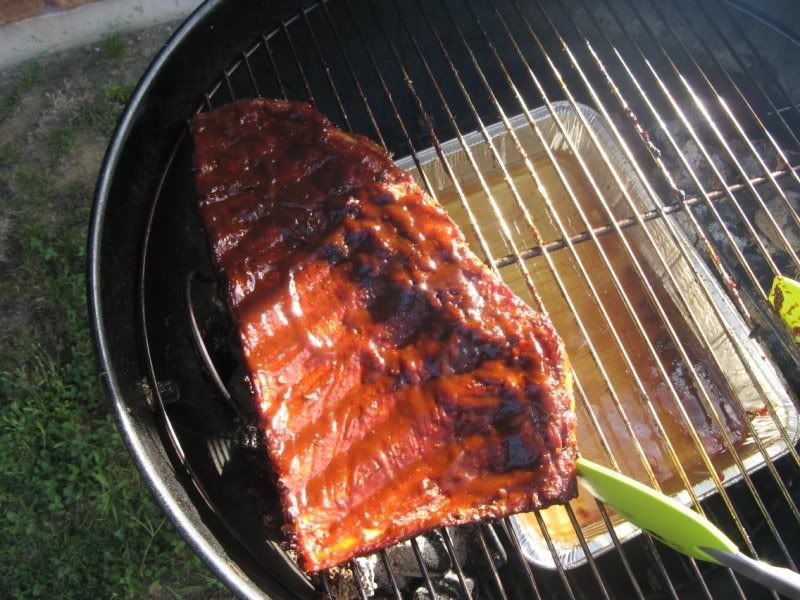 Take them off and cover with tinfoil for 15 mins. This is very important as it lets the meat relax and keeps the juices in the meat rather than running out on your board when you cut them. Resist the urge to tuck straight in.
Carve straight down each rib with a sharp knife and dig in. Serve with paper towels, very messy.
I didn't get a pic of the final result as people literraly mobbed them straight away, but will next time
Enjoy! And remember trial and error is a great fun way to learn. BBQs don't always have to be about burnt sausages and and leathery steak