Bacon.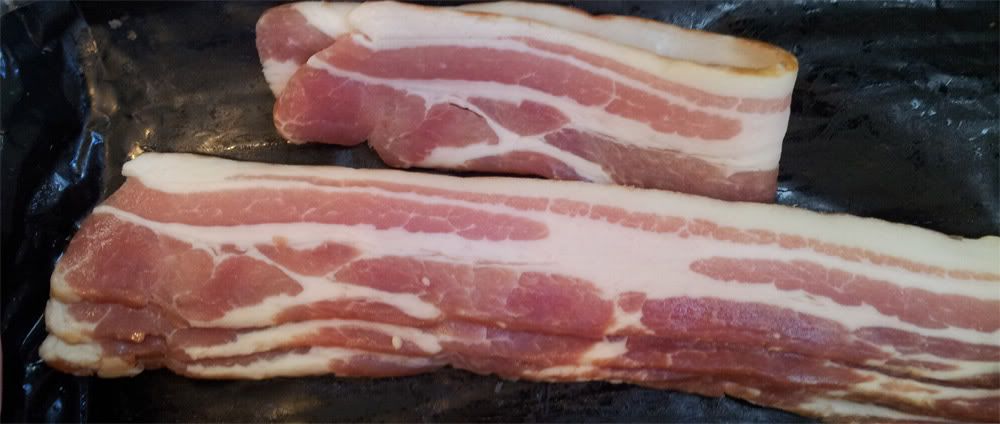 Everyone loves it. The problem is that most store bought bacon is to some degree, ****. The problem is that most bacon these days is wet cured, this means injecting a brine solution into the meat. Check the ingredients next time you are in a supermarket and you will see that in some cases your "bacon" is less than 70% pork. All that water suspended in the meat then comes out while cooking, which if frying can lower the pan temperature to the point where you are broiling the meat instead of frying it. A common result is that the bacon smells great but doesn't cook up the way it ought too.
Two thirds of a cup of water squeezed from only 1 slice of bacon?! If i wanted water i'd turn on the tap, some bastard is having a laugh while selling this. While some fancy bacons can deliver, these can cost upwards of $30-50/kg. Clearly drastic action needs to be taken to correct this terrible situation.
Now what would your reaction be if I told you that you could have bacon, better bacon than you have ever tasted, for around $12 / kg?
Cries that I must be mad? Since bacon costs so much it must be hard to make right?
Threats of violence for getting your hopes up?
Well...
GOOD NEWS EVERYONE!
So what's the bare minimum you are going to need?
Pork belly - these go on special at Pak'n'Save for $11/kg regularly. Look for ones with even thickness and meat at both ends, basically the bigger and thicker the better but skip ones with a bit mound of fat on one side (it's cheaper to buy lard if you want the fat).
Pink salt - Not the flash Himalayain salt, pink salt contains 6.3(ish)% sodium nitrate. Also known as Prague Powder, Curing Salt #1. While not essential to making bacon, I strongly recommend it. It fixes the pink colour in the meat, prevents spoilage and aids in that 'bacony' taste. Available on TradeMe very cheap.
Non iodised table salt - works with the pink salt to cure the meat and prevent spoilage.
Depending on the taste profile you want the sky is the limit, but typically the only other ingredients I use are fresh ground black pepper and garlic powder.
A boning knife makes this job easier but isn't essential as long as you have a proper sharp knife.
Those black mats are also very handy for stopping cutting boards slipping on bench tops, available from Moore Wilsons by the roll for less than $10.
The cure mix i've been using is as follows:
100g Non Iodised Salt
100g Brown Sugar (i've been using the darkest kind I could find)
20g Garlic powder
20g Fresh cracked pepper
12g Pink Salt
This creates enough mix for 5kg of bellly, at around 55g/kg. So a 1.8kg belly would need around 94g of cure mix.
The first thing we need to do is prepare the bellies by removing the corner of bone that is often present. (pic1) Place the belly skin side up and while pulling up on the corner, slide the knife along the bone leaving as much meat as possible on the belly. (pic2) Turn over and slice under the flap of meat at the point indicated to peel it back and expose the cartilage that runs diagonally (pic3). (pic4) completely remove the bones, save if you happen to be doing a slow cook at some point as they would cook up pretty awesome (much like ribs but faster i guess)
Weigh out the amount of cure you need based on the weight of the belly and then coat the belly, making sure to get into all those meaty nooks and crannys. Rub some on the skin but use the majority on the meat, making sure not to forget the sides. Using a roasting pan lined with baking paper keeps this process relatively tidy (I only have a pic of the first time i did it when i used a container that was a bit too small)
Cure sprinkled on, about to rub in.
Then promptly place the belly in resealable glad bags since a brine will start forming immediately as the salt draws liquid from the belly, then chuck it in the fridge. Use a vivid to note the date that you started the process on the bag, this is especially important if you do a couple of batches at once that started on different days. Here i've also noted the cost of each belly since i'm selling some on to people.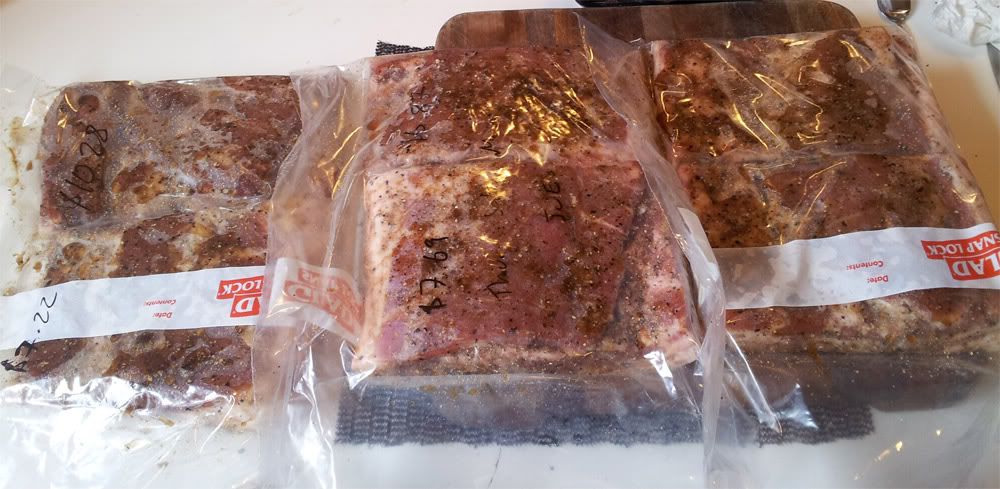 All you need to do now is turn the bags over every 2 days, on the 7th day check the meat and if it feels firm you are done. If it still feels squishy give it another day or two. Take the meat out of the bag and rinse it under cold water, dry with paper towels removing as much moisture as possible. Slice off a bit, fry it up (medium / medium low heat) and check if it is too salty, if it is soak in water for an hour, drain and check again. You now have bacon that tastes frickin' amazing and it would be a perfectly rational act to cut cook and eat slice after slice until it is all gone.

Removing the rind before slicing makes it easier to slice, so does chilling the meat to near freezing to firm it up. If you only have a knife to cut it with it may cut a bit thick, but that's hardly a bad thing
http://cdn.memegenerator.net/instanc...x/12389735.jpg
"There's more?" I hear you cry. There's more. We can take something that is already amazing and
turn it up to 11
, with smoke.
After you've removed your bellies from the bags, rinsed and dried them they need to go back in the fridge skin side down on a cake rack, this allows the outside to dry and form a pellicle (the bacon will feel sticky or tacky). The pellicle helps smoke
adsorbtion
. The ones in the middle have been out of bags for 2 days, the others are fresh out of bags.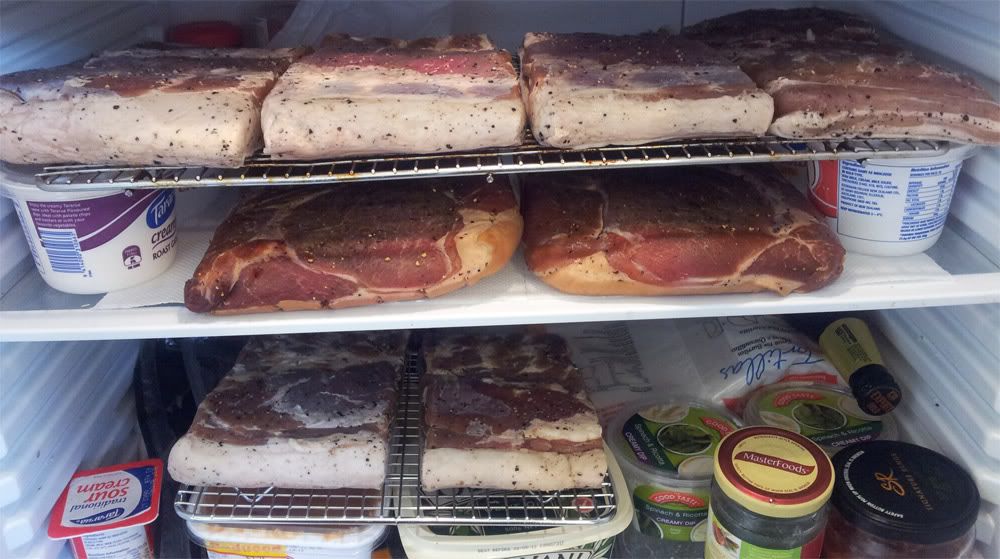 Ideally if you are cold smoking you want to keep the temperature below 36C or so, you can hot smoke if you like but it is unnecessary if you have used curing salt.
In the cold smoker, getting the treatment. (HowTo post on doing this on a weber is coming)
For the amount of effort that goes in to making this (barely any really) it's absurd that the result tastes so good, and yet it does. Best of all when sliced thick the depth of flavour really comes through when used as an ingredient in a dish or as lardons for salads, unlike regular thinly sliced watery bacon.
I'll leave you with the best tasting Fettuccine Carbonara that i've ever cooked, thanks totally to this bacon.