Right, so I have done some pimping.
Puchased this
Separate Charging Grip for Nintendo Switch
This is a 3 piece. 2 large grips and the central charging unit, as shown in the first pc. Includes micro usb cable for charging.
This the the most versatile, and even using the joy con detached they feel fantastic.
Downside. 2 player using the joycons is not ideal when using long ways even though the joy con straps connect perfectly. The additional girth makes Mariokarting 2 player not great.
The separate grips are slightly larger in the hand than those in the case below and super light. I think in the hand they are slightly better, but dont feel as sturdy. They're also a pain to remove if you want to use the joy cons separately for 2 player mode with the rail 'shoulder' buttons.
and this
Grip Case for Nintendo Switch by Skull & Co.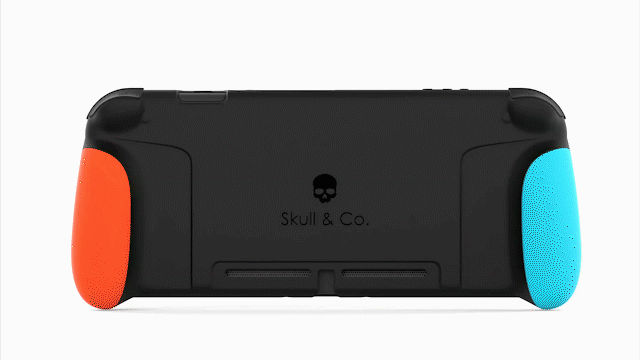 Both are fantastic! I use the grip case more as it has a fantastic carry case that everything fits in nicely. The grip case is more robust, but obviously locks you into that form factor if you want the chunky grips.
The bonus for buying both is that when using the grip case the joy con charging unit fits in the grip case carry case so I can use it if I want to have a "controller" with table top mode.
Been using this too.
Mcbazel Mayflash MAGIC-NS Wireless Adapter for Nintendo Switch
Its super cheap, and I have attached my dual shock 4, and XBox One S controller via bluetooth to my switch no problems. My Xbox One Elite controller works via USB. So it does exactly what it says. Seems any bluetooth controller works perfectly with it, and any wired controller will work just by plugging in.
Highly recommended.
Lastly, after much delay this arrived
Marseille Inc. mCable Gaming Edition HDMI with Anti Aliasing chip.
It works. Noticeably less jaggies, and smoother over all, no lag, or latency.
It is worth the price? Well, probably not. The non sale price in NZD incl shipping is $185. Thankfully I got it on sale for around $95. Still a hard sell, but I was curious. So if you have the disposible funds and a big enough screen it does improve things.
IMO these all solve the biggest issues I have with the device, and any large handed, or already own too many controller folk out there can happily move forward and buy one of these awesome devices. The Anti Aliasing HDMi cable is an unnecessary luxury, but I have no regrets buying it.